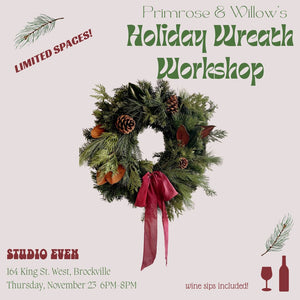 Holiday season is right around the corner! We want you and your friends to come to a cute and crafty workshop where you'll be designing your own holiday wreath.

All materials will be included as well as complimentary wine (red & white!). 
Location: Studio Even in Brockville (right across from Photovisions in downtown Brockville)
Date: Thursday, November 23rd
Time: 6:00pm-8:00pm
Be prepared for the heavenly scent of evergreens!!
PS - If there are any accessories you might like to include (your own ribbon or trinket), feel free to bring them along!