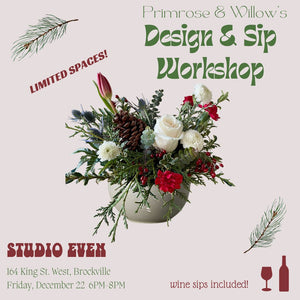 It's time to decorate that dinning table again with a beautiful floral arrangement just in time for family to visit. 


We will be designing a foam-free, whimsical and elegant arrangement using evergreens, berries, florals, and other accessories. 


*Please note this image is only a placeholder until we insert a more updated image*.
All materials are provided. Including some wine for sips! 😉
DATE: FRIDAY, DECEMBER 22nd
TIME: 6:00-7:00PM
LOCATION: STUDIO EVEN (164 KING STREET WEST, BROCKVILLE)