Holly & ryan
June 2nd, 2019
Wedding season 2019 has begun! After what felt like an everlasting winter, it feels so good to be back to making bouquets, floral arches, and wedding dreams come true.
Holly and Ryan held their wedding at the Brockville Country Club on May 25th, 2019 in the morning right before a huge rainfall. We created a gorgeous light blue, yellow, and white bouquet for Holly which added a very "spring meadow" feel to the wedding. The bouquet consisted of delphinium, claspedia, asters, solidago, lisisanthus, and more. These flowers were also used to create a beautiful floral arch for their ceremony.
We couldn't have asked for a better couple to work with as they allowed us the creative freedom to utilize the flowers that we knew would work well with their palette and their style. This certainly was the perfect way to kickstart the wedding season. Congratulations these beautiful newlyweds! We wish you only the best for your future.
First two photos shot by yours truly. Subsequent photos by Tender Moments Photography.
emily & adam
November 26th, 2018
Oh boy, it's been a while since I've posted anything on this blog. But gosh, it was a pretty last couple months during our wedding season. Emily and Adam's October wedding was our final wedding of the season and it was definitely one of my favourites to date.
From the get go, Emily reached out to me at the end of last year looking to book a consultation with me. I honestly had to push it off until early January because of the holidays and here's a bride looking to get things finalized for fall wedding. I can really appreciate that in a bride!
At our consultation, I would say we definitely clicked and I knew that this bride was going to be a DREAM to work with. Not only was she laid back but she had full trust in my creativity to create beautiful moody arrangements for her and Adam's wedding. Throughout the year, she would become one of my regular customers and it was such a pleasure to get to know one another a little more - month by month. We did the flowers for her bridal shower and soon enough, it was October!
As previously mentioned, we aimed to focus our colour scheme around the "merlot" (red wine) colour. We used chrysanthemums, leucadendron, chocolate cosmos, and calla lilies to really set the tone. For this wedding, it was the first time we hired someone to lay out the reception room with the centrepieces while we created a gorgeous arch at the Brockville Country Club. It was a chilly day but the whole day went so well and I really got to enjoy the process for this wedding. Sometimes, stress can run high - especially on hot summer weddings - and our entire focus is on keeping the flowers cool but this cold October afternoon allowed us to relax a lot more. Especially knowing, we didn't have to worry about the reception area. Alas, this wedding was such a blast and Emily was truly a fantastic bride to work with.
Now, we enjoy our "down time" until next year's wedding season…
Photos below by: Over The Moon Photography
Last photo: By us. Right after we completed the arch.
emily & david
August 15, 2018
Emily and David reached out to me earlier this year to do their personal bouquets for their upcoming summer wedding. They were such a sweet couple to work with and I particularly enjoyed the meetings with them and their always smiling baby girl Avery.
Their wedding was on Saturday July 28th, 2018 at Silver Lake Wesleyan Camp in Maberly, Ontario. The bridesmaids bouquets were strictly white flowers (scabiosa and lisianthus) with various shades of green foliage (seeded eucalytus, Italian ruskus, and asparagus plumosa). Emily's bridal bouquet included the same flowers and greens but with touches of purple. We included the nicest spelling white O'Hara garden roses and the most gorgeous lavender scabiosa.
The photos are absolutely breathtaking and photographed by Sarah Ruth Photography.
one year later
July 7, 2018
It's been officially a year since I walked into my local small business enterprise centre and registered my business "Primrose & Willow". What a year it's been!
A year ago I was just trying to figure out wholesalers and launching my own website. I've always been one to say "Everything can change in a year's time" and I was spot on when it came to running my own business. Nowadays, I've got the wholesaler thing on lock, I'm communicating every day with clients about their upcoming weddings, placing orders, and sending out wedding proposals. I've even managed to host quite a few workshops! Which was a completely daunting experience at first (I still get the jitters when public speaking)! With all the little victories I've managed to have, a lot of blood (rose thorns are no joke!), sweat, and tears happened to get to where I am today. And today isn't even where I want my business to be! It takes a lot of time and work to get to a point of contentment with something you grew from the ground up. I've got a lot to learn but I'm so incredibly blessed for the local community for embracing my return back to Brockville.
I've met some fantastic women who run their own businesses here in Brockville and Prescott (Hang Ups, LC Hair, Simply Well Health Coaching, Danielle Murphy Studio, Sunshine Photography, Lindsay Oosterhof Photography, and SO much more!). They've all been a source of encouragement for me during this past year.
More importantly, I have to thank my family, my boyfriend Colby, and YOU! If it weren't for the support of loyal customers, I wouldn't be working in flowers one year later. It wouldn't even be possible. There's been so many amazing people who I got to know from delivering beautiful flowers on a regular basis and I couldn't be more thankful to have an avenue like the one I have that allowed me to meet these wonderful people. They value my creative freedom and trust that I can deliver them a bouquet or arrangement that they or their loved ones will adore.
If it weren't for you, I don't know where I would be. Thank you for allowing me to work with beautiful flowers, have a career that I love, and bring happiness to others. I look forward to seeing what year 2 will bring!
canada blooms
march 18, 2018
Earlier this week I had the wonderful pleasure of participating at this year's Canada Blooms festival in Toronto. I was scheduled to create a live floral installation based off a movie of my choosing (the festival's theme was "Let's Go To The Movies"). I chose a recent film I had watched, 'Lady Bird' (2017), as my movie pick. It took me practically the day before to decide on what I had planned to do. I knew I wanted to create a California vibe feel to the installation but how would I manage to do that with only a Volkswagen beetle and a limited budget on hand? I decided to keep it simple with a "Welcome to Sacramento, CA" sign because the main character is based from there and has this love/hate relationship with her hometown. At one hand, she hates the lack of diversity and limitations the city has to offer. She doesn't want to be living near her mother who seems to judge her every move. But on the other hand, Lady Bird adores Sacramento and misses her mother after she's moved away to New York City. What made Sacramento unique couldn't be found in the new city she was now living in.
Photos by: Amy Buck Photography
jaime & daniel
january 1, 2018
We capped off 2017 with a gorgeous winter wedding at Ivy Lea in Lansdowne, Ontario. The couple only wanted foliage for the bride's and bridesmaids' bouquets. Bouquets consisted of seeded eucalyptus, boxwood, ming, oregonia, ruscus italian, plumosus, and coffee. Jaime's crown was made out of boxwood leaves.

This was the first time we were asked for this sort of arrangement and we loved doing it. Mariah from Sunshine Photography took these amazing photos and we still can't get enough of them. Congratulations goes to Jaime and Daniel!
What 2017 taught me
december 18, 2017
This year was a whirlwind. not only did I move from the big city of Toronto to move back to my hometown, but I also quit my career to pursue an entirely new one! Some would say it's irresponsible but you've also only got one life and if what you're doing isn't giving you a sense of purpose - change it.
With that being said, 2017 has taught me many lessons. Some I wouldn't have gotten to learn had I not made this big switch.
1. Starting your own business will make you feel discouraged many times. You're going to want to quit at least once every month since inception. It's not an easy job but it allows for plenty of creative control and fulfillment.
2. Having a strong support system is key. I can't count how many times my family, friends, and boyfriend have stood by me while contemplating quitting or feeling like a fraud. You are your worst critic and you won't ever see what the public sees in your work.
3. You'll under-value and under-price your work. This one's hard to avoid for any creative professional. I'm only starting to raise my prices a bit but it's always fluctuating because flowers can be unpredictable. They can look healthy one minute, be prepped as they should, and then lose their petals in another instant. The battle is rough but once you know that your work competes with what is on the market, it'll be much easier to set a higher pricing point.
4. Maintain your health or improve it! Because you will wear yourself too thin at times. My immune system isn't the greatest and when I'm overcome with a lot of stress, I will inevitably get a cold. But avoiding stress is impossible, so be sure to take your vitamins, get some fresh air, exercise (still working on that one), and enjoy the little things that make you happy. next year, I plan on scheduling some un-plugging time.
5. You will make mistakes and you'll have to learn how to fix them quickly. No one's perfect and mistakes happen. I've had times where I had to call on family to make several trips to the farmers market because I kept forgetting things. You'll feel dumb but if you act quickly, your problems can be fixed.
6. Most important lesson of all: your work will make a lot of people happy. Whether it's the Instagram photos or receiving a bouquet, I've had the pleasure of brightening up people's days and that's the main reason why I went into this business.
Thank you everyone for a making my 2017 so special. Merry Christmas & happy holidays. See you in the new year!
it's almost winter. now what?
november 7, 2017
The season for farmers markets, flowered fields, and blooming gardens is sadly over. As someone who dislikes the winter months, I've been pondering on ways I've incorporated the outdoors into my home. This allows me to add some colour and life into my every day routine. Here are a few ways I've managed to do this:
1. I still add flowers into my home. yes, I may run a floral design business but with any leftovers, I make sure to include a vase arrangement next to my bed or by my kitchen sink. I'll often look into them and have a few moments of appreciation.
2. This is prime time to focus on your plants and build your collection! with the cold weather in tow, our botanicals will need a closer eye in order to grow and prosper. You might need to move your succulent away from that drafty window to another sunny location. I'll be focusing a lot on providing the most amount of sunlight to my flock since they're so dependent on it (just bought an LED light!).
3. Diy with dried flowers! I've been doing a lot of this lately. Whether it be dried floral wreaths, dried eucalyptus for a minimalistic look, or dried floral crowns. They're so pretty and inviting. see pictures below for the floral wreaths I was referring to!
4. Christmas greens will be made available (so soon!). If you're able to, get a real Christmas tree for once or perhaps a pine/balsam/magnolia tips garland! They bring so much natural scent to a living space.
5. If you have an oil diffuser, get some floral scented essential oils (click the link for the ones I got!). Or even add some drops of oil into your bath.
These are just a few things I'm doing this winter to keep living that flower/botanical life.
melanie & steve
On September 23rd, we had the pleasure to work with Melanie and Steve for their big day. It was a blistering hot day but it made for a wonderful sunny day. This was primrose & willow's first wedding and we're so thankful for this couple to trust us in providing them blooms for the ceremony and reception.
We used a very light colored palette. These would fair well with the navy bridesmaid dresses and groomsmen suits. Bouquets consisted of dahlias, roses, hydrangeas, Italian ruscus, and eucalyptus.
Photos by: Danielle Murphy Studio
the return
september 6, 2017
As summer is coming to a close, I can't help reflecting on the past few months. Most likely because I moved back to my hometown at the end of June and had to embark on a new chapter in my life. The first month back was undoubtedly hard, I mean really hard. Having to adjust to living below your parents, starting an actual business (holy paperwork!), and being away from your closest friends are just a few trials I had to face. But slowly and surely, things were looking up by the end of July. i was starting to sell flowers and make arrangements! I was slowly building a foundation for myself and my new business. I met some new people and reacquainted with some familiar faces. But mainly, my anxieties that were crippling my body when I was living in Toronto were no longer there. I knew that for certain when I went to visit the city in the beginning of August and found myself walking around with ease and patience. I could finally breathe again.
Now that temperatures are dwindling to the single digits, I'm looking for ways to keep momentum with primrose & willow. It should be an interesting autumn. I am looking forward to working my first wedding this month and seeing what seasonal flowers are becoming available. I'm really hoping to make it down to Prince Edward County and visiting either Floralora farms or the lavender farm there. Eee i can't wait.
Before I forget, I wanted to thank anyone who's supported me by showing up to the farmers market or ordered flowers via socials. It's been such a treat to work on something you love. Thank you for making it a reality.
All the best! Thank you!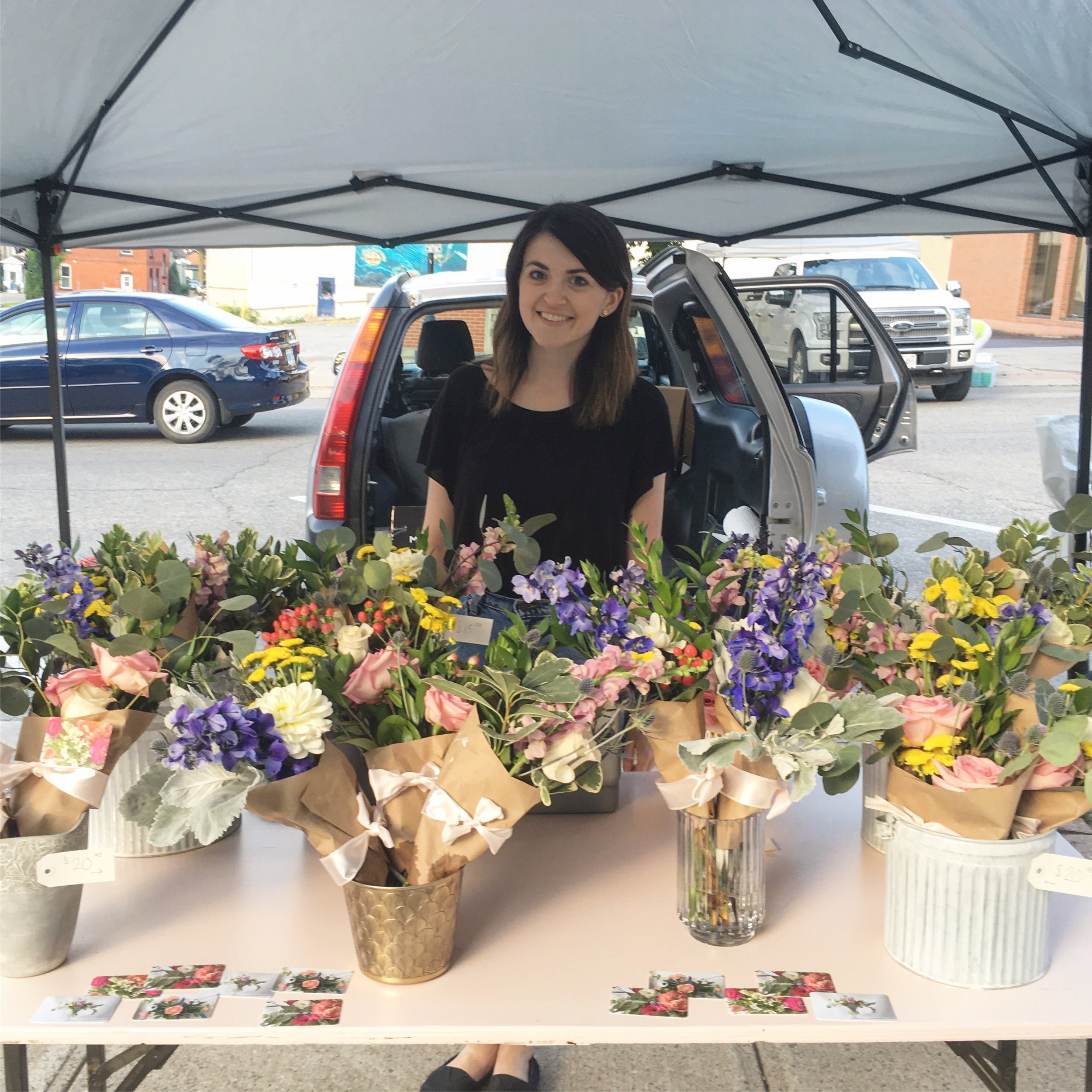 the decision
june 28, 2017
I never thought i'd ever move back to my hometown. It wasn't on my radar and the option wasn't even made available to me until earlier this year. As much as i love Toronto and the endless activities, the city had worsened my anxiety in the last few years. I was also in a full-time job that I wasn't passionate about and didn't fuel my creativity.
When i visited Brockville for Easter, the thought about moving back here was simply just a joke among a close friend of mine. Her and her husband didn't know what a succulent was and I thought it was my duty as a plant enthusiast to teach them my ways. Once I had arrived back to the city from that weekend, the thought about returning persisted. I thought that i'd be closer to family and a few close friends. Subsequently I realized that i wouldn't have Toronto rent payments to worry about anymore. After months of deliberating, discussions, and albeit a few freak-outs, I decided it was time to move back to my hometown. Although I didn't know if it meant I was living there for one year or more, the decision felt right.
It's been a few days since i've moved back to Brockville and the anxieties I had from the big city are slowly dissipating. I'm getting quite excited to start this new chapter with primrose & willow and seeing where it takes me. Deciding to move back to your hometown after having lived away for eight years can often feel like you're taking 10 steps back, but i know it's only a matter of time till that feeling subsides. In the meantime, I'm looking forward to spending days near the river, peering at other peoples' beautiful gardens (did this already!), and meeting anyone who wants to add more flowers into their lives.
Thanks everyone!